2700 HP, 31TBP and sensitive thrust control in any direction
Voith Water Tractor KUPE represents the state-of-the-art in ship handling, tanker escort and assist technology
Interventions throughout South Pacific
Builder: WECO, Whangarei, New Zealand.
Port of Registry: Port Vila (Vanuatu) No RV7238. Call Sign: YJS7406. IMO: 710794. MMSI: NA
Displacement: 535 metric tons. GT:302 t. NT: NA t
Overall Length: 31.82 m. Beam (moulded): 9.15 m. Depth: 4.9 m. Draft: Light 4.95 / Loaded 5.10 m
Radar: 1 x Furuno. Depth Sounder: Kodan. GPS Furuno GP31 and NAVpilot TZTL12F Chart Plotter. Auto Pilot: Comnav
Communications: AIS VHF Furuno FM-4800. Icom SSB Radio. IMMARSAT Global System Voice @ data
Bollard Pull: 31 Metric Tonnes in direct mode.
Towing Machine: Rapp Hydema fitted with 119 t BS winch line, freewheel capable. Towing Hook: 3 T
Crane: telescoping boom, 1000 kg capacity @ 6.5 m. Aft Tugger Winch: Hydraulic 3 T.
Output of Generators:2 x Caterpillar 128 KW and 1 x Emergency Kubota 10 KVA
Steering and Propulsion: 2 x Voith Schneider 5 blades 28GII 185 units
Type of Engines: 2 x Ruston Paxman 6RK3CM 6 cylinders 1350 HP (1007 KW) @ 900 rpm
Total Engine Power: 2,700 HP (2,014 Kw)
Maximum Speed: 12 knots. Sea state 4 (max load) 8 knots.
Range/Speed: Light 2,960 NM @ 8 knots (Free ride)
Fuel Tanks Capacity: 133,000 Litres
Capacity of Fresh Water: 15,430 Litres tank
Crew Capacity: 12. Food Supply: Full galley to support 24 HR operation. Medical: 1 sick bay
Maintenance: Machine shop space, on-board spare parts storage space
Fire Fighting Capability:
Fire Pumps: 2 x Service, 1 x Emergency, 2 x Fire fighting Stations
Workboat (on deck): Plywood-Epoxy unsinkable with 60 HP outboard engine.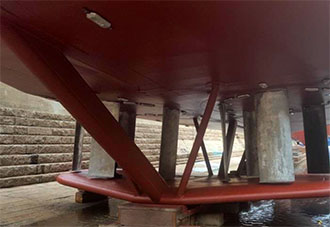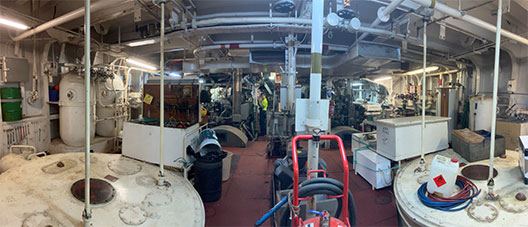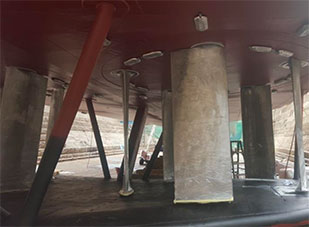 Voith Schneider Propulsion overview
With her cycloidal propulsion system KUPE can direct thrust in any direction without changing her heading, allowing her to manoeuvre large vessels into confined channels and docks with optimum utilisation of available power and thrust.

With her large protection guard beneath her propellers designed as a nozzle plate to increasing her propellers thrust, KUPE offers the perfect salvage assistance for stranded vessels.
RATES on request
Crisis Response: (678) 7100 230 H24