We remove barnacles, tubeworms, etc. as well as calcium and basal plate deposits from ship propellers.
Propeller surfaces roughened due to age, fouling, and electrolytic action can be polished to a high luster finish
ABC Diving and its subsidiaries provide:
Multi-stage MICRO-POLISHING of all surfaces
Detailed REPORT with Still Photography (pre and post polishing) including report about any anomalies sighted during a general inspection (pitching, bent, crack, oil leakage...).
The propeller is particularly vulnerable to marine fouling since it is an UNPAINTED surface that must remain CLEAN and SHINY for proper operation.
The U.S. Navy determined that propeller fouling, despite its small surface area, can generate energy losses amounting to half that of the hull it, so maintaining a clean propeller is critical.
On military ships, the unpainted surfaces such as propellers, rudders, and sonar domes are cleaned twice as often as the hull surfaces.
Propeller POLISHING removes marine growth from the surface of blades to reduce friction and ensure that the propeller operates at optimum efficiency; which may significantly reduce fuel consumption (roughness alone can increase fuel consumption up to 10 percent).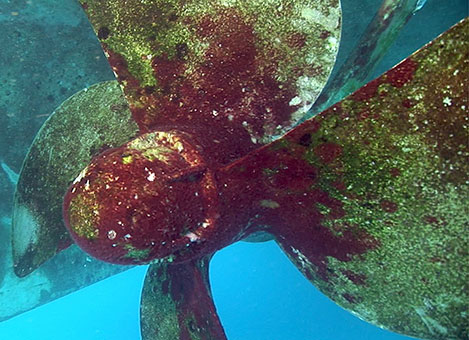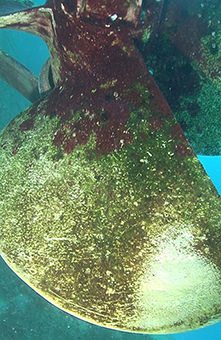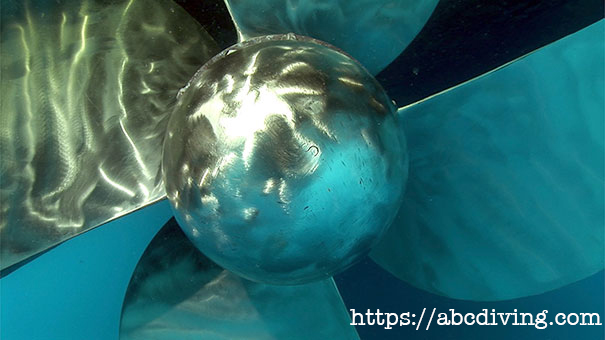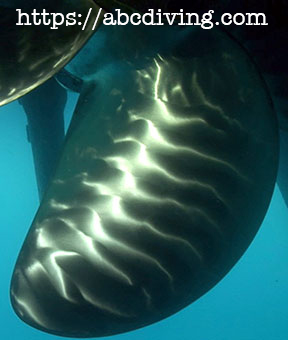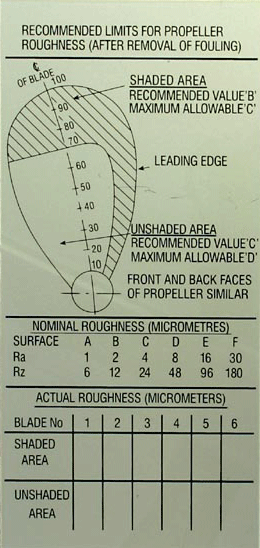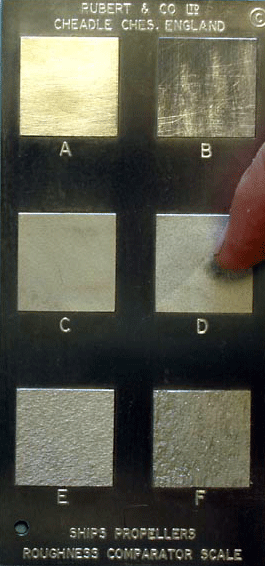 The process is typically conducted within a 6-8 hours period while the vessel is at anchorage, loading or discharging.
Because the cost of the underwater polish will only be a small proportion of the fuel savings,
the most important factor to be considered by the customer is the quality of the polishing.
Cleaning a Propeller
A propeller is exposed to all sorts of attacks underwater, such as rusting and adhesions of the sea. It is the key piece of the ship's propulsion system, and thus deserves special attention.
The propeller is the element that allows the transformation of the mechanical energy of the engine into propulsion.
A propeller in poor state is a disaster.
If it is unbalanced, it will vibrate and end up damaging the transmission axis.
If it is bent or hit it makes matters worse, since in addition to being unbalanced, it will produce serious chafing that will result in low performance quality.
Therefore, the first inspection to the propeller when we take the ship out of the water will be to determine if it has some physical impacts that need repair.
But what will always be necessary, for a ship that has remained in the water for a long time, is the cleaning of the propeller.
As in any circumstance when there's contact with natural elements, sea snails and other incrustations of other forms of sea life will appear, causing calcareous deposits that cause irregularities on its surface, contributing in some way to unbalance it.
But what mostly happens is that a rough surface is formed from heavy chafing, resulting in poor performance and loss of thrust.
To continue to use a very dirty propeller is like driving your car on a road that's in very poor state and full of potholes.
We know that very dirty pieces of equipment notably reduce the displacement of the ship. And the same thing happens with the propeller because, although its surface is a lot smaller than that of the ship's wet hull, its surface area is multiplied by its many revolutions at high speed.
The objective of this is to suggest that your propeller is kept the cleanest and most polished possible. And it should always be clean of horrible incrustations and calcareous deposits.
You may be interested with: