ABC Diving performs DRY and WET Welding & Underwater Cutting systems by a very productive way, even with poor visibility condition.
Our skilled and experienced divers are able to crop corroded/pitted bottom shell plating and DRY-WELD on-site new steel plate inserts whilst the vessel is afloat. Such renewals are to class requirements, are a permanent repair and can save valuable time and money outside the dry-dock.
WET WELDING and/or CUTTING can be carried out efficiently to save valuable time in case of Ship emergency repair and for Civil Engineering Industry.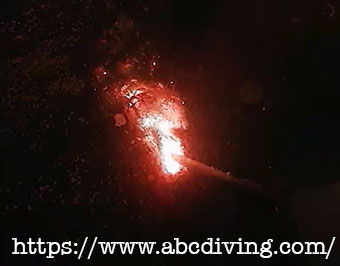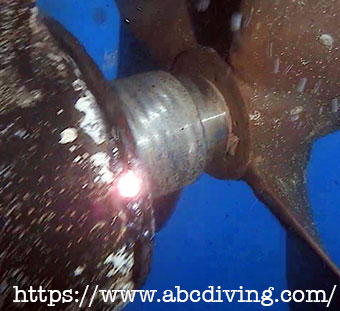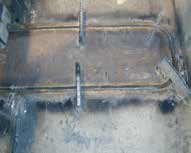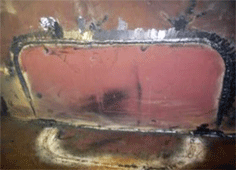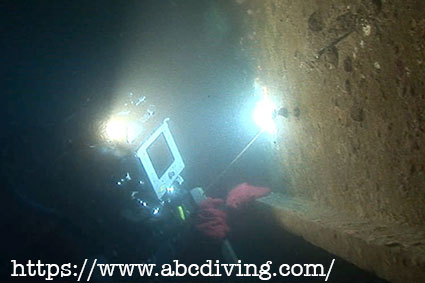 Flat insert repair showing single sided weld and Insert held in place with 'dogs'
In order to replace a section of hull plating, the process is the following:
The initial action is to fit a coffer-dam over the area of interest and secure in place to provide a water-tight enclosure
Then the area of hull plating is cut out from inside and a piece of new plate produced to exactly fit the resultant opening.
A Class Approved single side weld procedure is then employed to weld the new plate in place
Once welded the requisite NDT is carried out
The hull plating re-coated with Epoxy primer and antifouling paint to preserve the area
Finally the coffer-dam removed from outboard.
This permanent repair process has successfully been used on numerous occasions in ships suffering collision damages.
This process therefore offers a realistic alternative to docking and provides a permanent repair solution.
--------------------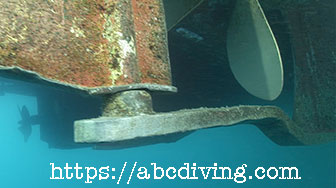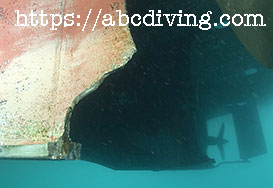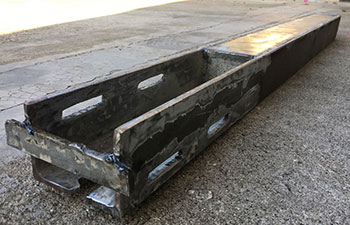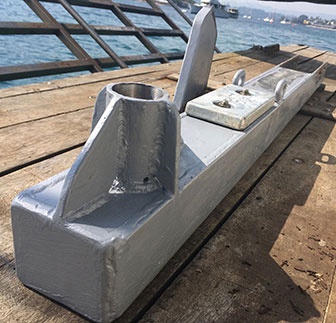 Broken Skeg replacement: we made a new design, stronger than the original one. Wet welding with Broco SoftTouch.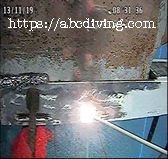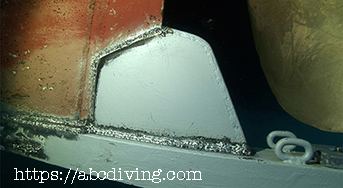 Video: here

ABC Diving Ltd and subsidiaries offer afloat repairs to hull plating, fully Class Approved process that allows permanent repair and replacement of damaged areas of hull plating using a single sided welding procedure.
This process can be used for repair of cracks, deformed plate, or even retro-fit of hull mounted equipment.
For welding we use Broco's Ni-Touch nickel welding electrodes allowing underwater wet welding of carbon and high tensile steels (meet the more stringent requirements of the Navy's Naval Ship Technical Manual NSTM 074), or SoftTouch electrodes (meet or exceed AWS D3.6-98 specifications for Type B welds - the American Welding Society's standard for certifying underwater welds - Pass all AWS test requirements, including radiography, bends and hardness).
Broco systems include mild steel, nickel and stainless steel electrodes.
Nickel electrode produces welds with less porosity and allows deeper welding in the overhead position. Ni-Touch™ electrode is appropriate for all position groove and fillet welds.
--------------------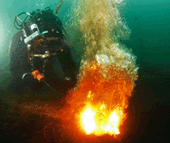 Underwater CUTTING
30 years ago...
A challenge.
Ultrathermic Cutting Rods Today... So easy and effective!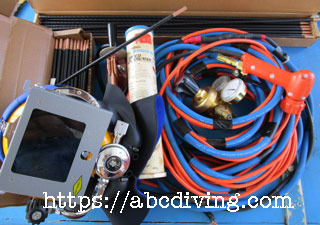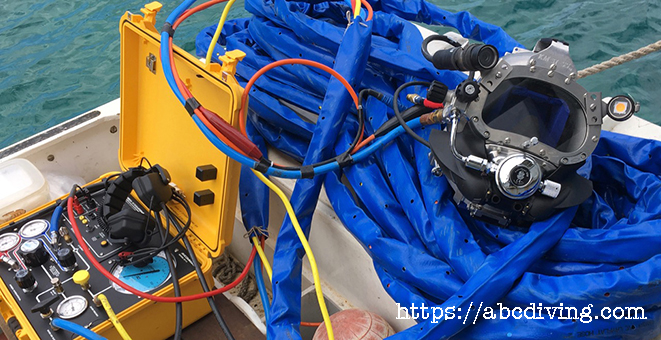 ABC Diving operates BR-22 Torch, HVR-4401 Regulator, UW/KS Knife Switch, and Ultrathermic Cutting Rods: the Broco® Underwater system provides the fastest, most efficient and cost effective means of completing underwater tasks involving cutting, piercing, or gouging.
Ultrathermic Cutting Rod produces a temperature in excess of 10,000° F - hot enough to quickly cut or melt through almost anything including CAST IRON, STAINLESS STEEL, BRASS, other ferrous and non-ferrous metals and CONCRETE.
10,000° F means more cut per inch of rod than any other on the market. The Ultrathermic Cutting Rod cuts through marine growth, rust, and mill scale eliminating the need for pre-cleaning and helping lower operating costs and reducing bottom time.
Our qualified personnel, with extensive experience, offers a prompt crisis response for In-Water Cutting and can proceed to extremely delicate operation that demands painstaking attention to detail. Due to our skilled operators we were requested to perform works for the Navy (i.e. propeller guards cutting).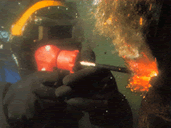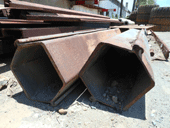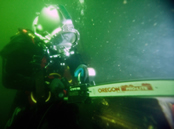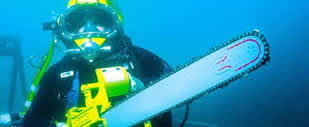 In-Water Sheet piles cutting with Ultrathermic Cutting Rods and underwater chain saw, Flexible Linear Shaped Explosive cutting.
We also operate Stanley U/W DS11 Diamond Chain Saw capable to cut concrete (including wire or rebar reinforced), brick, concrete block, masonry or stone.
--------------------
Underwater GRINDING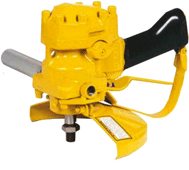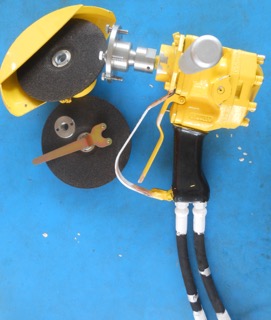 Stanley GR 29 (2700 rpm @ 10 gpm) is easily handled by divers
ABC Diving Ltd offers an underwater grinding solutions by operating hydraulic tools.
--------------------