ABC Diving® Ltd
Port Vila, P.O. Box 3242 VANUATU South Pacific
Complete Diving Services to Vessels & Civil Engineering Industry
Please, contact us for:
HELICAL ANCHORS
(or Helix Anchors, or Screw Anchors)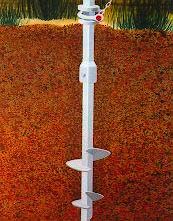 What is a helical anchors?
A helical anchor/pile consists of one or more helix-shaped bearing plates attached to a central shaft, which is installed by rotating or "torqueing" into the ground.
Each helix is attached near the tip, is generally circular in plan, and formed into a helix with a defined pitch.
Helical anchors/piles derive their load-carrying capacity through both end bearing on the helix plates and skin friction on the shaft.
Helix Anchors Description
Lead Section
The first section or lead section (images below) contains the helical plates.
This lead section can consist of a single helix or up to four helices. Additional helices can be added, if required, with the use of helical extensions.
The helices are arranged on the shaft such that their diameters increase as they get farther from the pilot point. The practical limit on the number of helices per anchor/pile is four to five if placed in a cohesive soil and six if placed in a cohesionless or granular soil.

Above: Round Shaft (RS)
below: Square Shaft (SS)


The Round Shaft "RS" (or Round-Rod "RR") multi-helix anchors are used in areas where weak soil conditions exist and moderate holding capacities are required. All helix lead sections are 7 ft. long. Extension shafts may be required for installation to proper depth.

The Square-Shaft "SS" multi-helix screw anchors are designed for heavy-guy loading. They have 1-1⁄2" square steel shafts.
RS and SS screw anchors consist of three galvanized components: the lead section, the extension shaft and the guy adapter.
Extensions
Plain extensions , either square or round, are added in standard lengths of 3, 5, 7 and 10 feet until the lead section penetrates
into the bearing strata.


Plain extension
Typically, square shaft extensions can be used in both compression and tension applications. Round shafts are more commonly
used for compression and have a greater section modulus, resisting bending in weaker soils.
Guy Adpaters




Thimbleye & Ovaleye
WITHOUT Pulling Eye
Twineye & Tripleye
WITH Pulling Eye
Which use for Helical Anchors - Piles?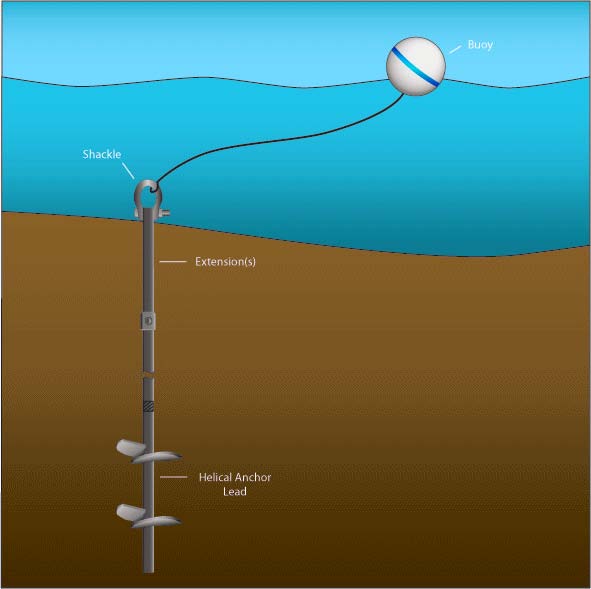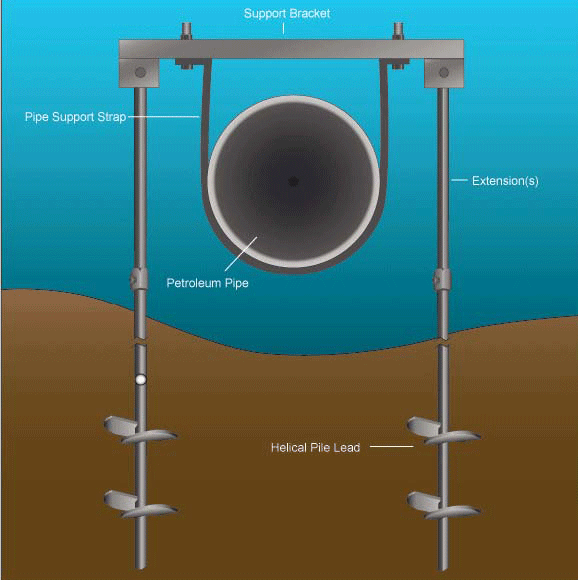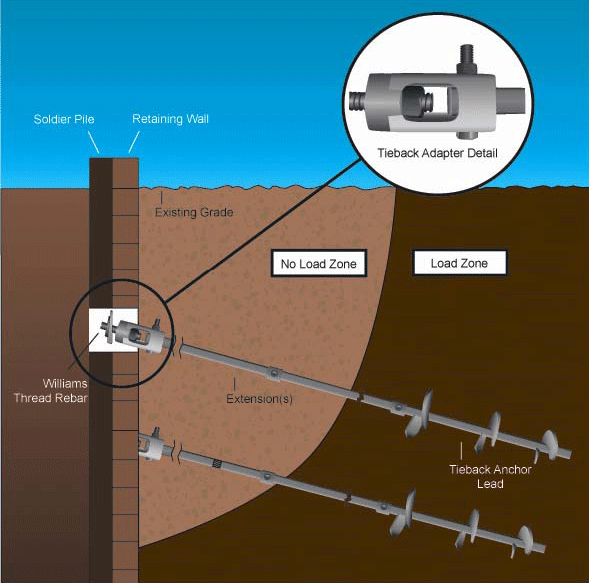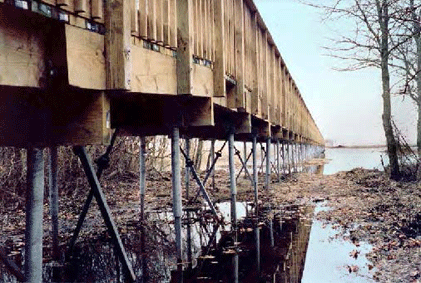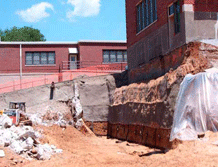 Anchoring for boats, floating docks, bulkheads, seawalls, fixed pier, etc.
Pipelines Stabilization (fresh water, oil, gas, sewage, etc.)
Piled Walways construction (combination anchors type "SS/RS" series)
Instant Foundation for bollard walkay lighting
Helical Screw Piles for new construction - Slabs and Foundations
Foundation Underpinning
Earth Retention Shoring System
Which advantage - Helical Piles & Anchors?
Quick, easy turnkey installation
Immediate loading
Small installation equipment
Pre-engineered system
Easily field modified
Torque-to capacity correlation
Install in any weather
Solution for:

Restricted access sites
High water table
Weak surfaces soils

Environmentally friendly
No vibration
No spoils to remove
No concrete.
Anchor Drive
The anchor installation requires a hydraulic Driver .
ABC Diving/SEAWORKS operate PENGO Driver RS-6 up to 6750 ft/lb actual torque (9,287 NM).
Round Shaft anchors torque rating is 2,300 ft/lb (3,164 NM). Ultimate tension rating for RS mechanical strength is 70,000 lb.
Square Shaft anchors Max. Installation Torque is 5,500 ft/lb (5,767 NM). Minimum Ultimate tension strength is 70,000 lb.
The hydraulic Driver is operated off a small barge (draft 0.40 m, length 14 m, width 6 m, lightship 5 ton, deadweight 10 ton).