Hull cleaning carryied out from a specially designed Dive Support Vessel, with hydraulically powered single and multi-brush tools, water blaster and hand tools

Air Supplied Divers equipped with full face masks or/and helmets with radio communincations

Vessel to be cleaned and Dive Support Vessel drift together in the cleaning zone (no anchorage, pilot, agent, or port fees)

Easy access to both sides of the vessel to be cleaned

Great visibility for CCTV full HD camera shooting in clear water

Ability for officers onboard to remotely connect (tablet, smartphone, laptop) to the diving CCTV for monitoing inspections and work in real time

Hull and niche areas cleaning are usually performed in a single day (depending on vessel's size, type and extend of marine fouling), work may be continued at night if additional time is required.

Biofouling Inspection Reports in compliance with NZ MPI Craft Risk Management Standard (CRMS) for biofouling on vessel intending to go to New Zealand

Final video rushes given to the Master on USB key on work completion.

Photo Survey Report uploaded on the Web (within 24 hours) to a dedicated private address for everyone concerned.

Reasons to Keep a "CLEAN HULL"
Proactive IN-WATER Hull Cleaning
Unlike propeller polishing, hull cleaning is usually difficult to plan for. This is because the paint system is often unpredictable and once fouling starts to build up it is near impossible to pin point. We advocate cleaning early, when slime starts to form, rather than when heavy growth such as barnacles start to build up.
A build up of marine fouling such as barnacles or tube-worms can cause turbulence, cavitation and noise, affecting the performance of sonar, speed logs and other hull mounted sensors.
Most of our clients therefore combine the vessel's performance data with regular in-water hull paint and fouling inspections which are often combined with a propeller polish. This allows information on paint performance to be gathered cost effectively and the decision to arrange for hull cleaning can be made based on accurate and up-to-date information.
It is greatly advisable to clean a ship at least twice a year, before having to many worms, barnacles and... Aquatic Invasive Species (AIS).
Even in the case when it is necessary to make inspection, repair or restoration of a protective coat of a ship in a dry dock, it would be advisable to perform an Underwater hull cleaning first, which would allow using dry dock more efficiently.
FRICTIONAL RESISTANCE COST
The surface covered by sea adherence is about 80% of total ship hull.
Besides preventing direct surveying, sea adherence causes a decrease of ship's speed and consequently augments CONSUMPTION of FUEL.
Indeed, due to build-up of biofilms, sea grass, barnacles and other marine creatures on the hull as a vessel goes through water, its fuel consumption is significantly increasing with its hull frictional resistance.
Avoid your ship to be BANNED
Everyone involved in shipping is well aware about the issues regarding Non-Indigenous Marine Species and authorities power which may result in the vessel's entry banned in South Pacific territorial waters or harbours.
- Proactive cleaning is much easier and cheaper than reactive cleaning! -
We implement self-propelled mechanical underwater cleaning machines with rotating tools (used in conjunction with smaller mechanical tools):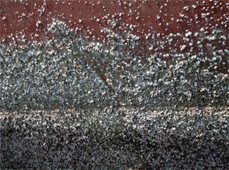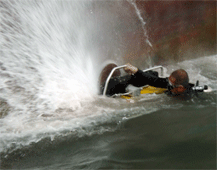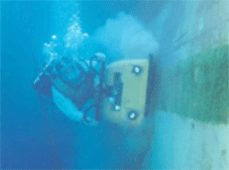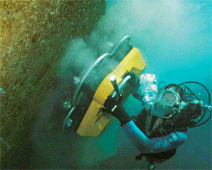 A vessel's fuel performance usually begins decreasing after six months from dry-dock and continues to decrease rapidly.
Underwater marine growth, barnacles, and/or sea grass can cost a ship-owner millions of extra dollars in time and fuel costs each year.
To prevent spending additional money for fuel, a ship should be cleaned twice a year.