ABC Diving® Ltd
Port Vila, P.O. Box 3242 VANUATU South Pacific
Complete Diving Services to Vessels & Civil Engineering Industry
Please, contact us for:
JETTY & WALKWAY FOUNDATION SCREWING
(Screw-Piles)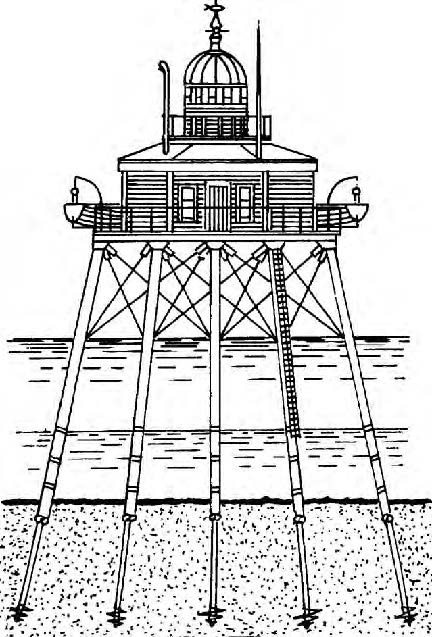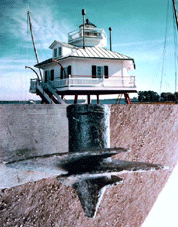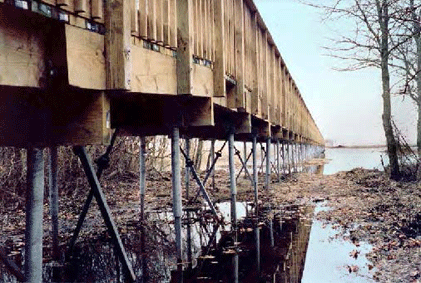 (1st and 2nd photo above) Mitchell's Screw Pile - 1836. (On the right) a walkway nowadays (combination anchors type "SS/RS" series).
"on Submarine Foundations; particularly Screw-Pile and Moorings",
by Alexander Mitchell, Civil Engineer and
Architects Journal, Vol. 12, 1848.
" whether this broad spiral flange, or "Ground Screw," as it may be termed, be applied … to support a superincumbent weight, or be employed … to resist an upward strain, its holding power entirely depends upon the area of its disc, the nature of the ground into which it is inserted, and the depth to which it is forced beneath the surface."
ABC Diving Ltd offers a fast, economic and reliable way to built jetties, walkways and all other small maritime infrastructures foundations, even located at REMOTE LOCATIONS or inside SENSITIVE AREAS, by operating a small barge specifically built-in for such purpose and portable hydraulic tools for pilling, drilling, breaking.
Reliable Hardware (Hot Dipped Galvanized per ASTM A153):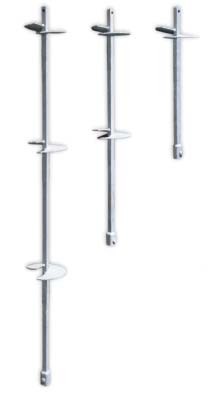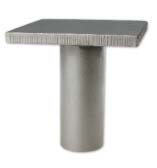 PIERS and ANCHORS: Square Shaft (SS), Round Shaft (RS), Hollow Shaft, SS & HS Combo,
Helical Extensions, New construction bracket.
The CHANCE®Helical Pier Foundation System
New construction foundations don't have to be a headache. The CHANCE® Helical Pier Foundation System (photos above) gives you the performance of concrete without the drawbacks and liabilities of driven piles and drilled shafts.
The helical pier foundation can be devised to resist or support any load or application. And it's fast. It can be installed with lightweight construction equipment and loaded immediately. There's no concrete curing time, and predefined capacities are predictable, putting you in control.
Approved by national building code agencies BOCA, ICBO, SBCCI, CCMC and ICC, the CHANCE®helical pier and tension anchor has become the deep foundation system of choice for architects, builders, contractors, engineers and geotechnical firms.
The CHANCE®Helical Pier Foundation System is perfect for a wide range of commercial, industrial, institutional and residential applications — from new homes and high-rise structures to sound walls, communication towers and bridges. Here are just a few applications
HOW IT WORKS?
The CHANCE®helical pier is a segmented deep foundation system with helical bearing plates welded to a central shaft. Load is transferred from the shaft to the soil through these bearing plates. As a result of their true helical shape, the helices do not auger into the soil but rather screw into it with minimal disturbance.
What the Helix Anchors/Piles foundation?
The bearing strata and the necessary or appropriate torque is achieved.
SOLID ADVANTAGES
The helical pier foundation is preferred over driven piles, drilled shafts, grouted tendons, auger-cast piles, belled piers and other deep foundation systems for a number of compelling reasons:
Fast installation and immediate loading
Pre-engineered system
Eliminates high-mobilization costs associated with driven piles, drilled shafts or auger-cast piles.
Instant torque-to-capacity feedback for production control.
Easily modified in the field.
No need for concrete to cure.
Uses common construction equipment easily fitted with hydraulically-driven torque motors.
Easy to use in limited access sites, high water tables and weak surface soils.
No need to remove spoils.
No casings required for flowable sands, soft clays or organic soils.
Minimizes soil disturbance during installation.
Installs in any weather.
No vibration
Environmentally friendly
Hot dipped galvanizing to ASTM A-153
ISO 9001 certification.
"Outside of ...................... there was another bad case of the naysayer blues.
We were installing helical piers in place of very short 6″ by 6″ wood piers that were pushing out of the ground.
In a pre-job meeting, I showed the walkway owner that the walkway itself was structurally sound and that he only had to replace the wooden 6″ by 6″s. Others, however, thought that the helical piers would not work or that they would take too long to install.
Despite the opposition, we devised a process to do the work and received the order for the piers and brackets.
I went to the job on the first day of installation and the hydraulic drive head had been broken during shipping.
Day one was a washout, and the naysayers had a field day.
But Danbro shipped another drive head to the job immediately and we were back in business the next day.
In spite of the setback, the walkway owner" was able to install 85 piers over the course of four days!
The piers were installed on time, and have performed very well."

TO HARD SEDIMENTS FOR SCREWING? Not a problem!
We can either:
This sort of screwed or piled foundation will resist without any damage to cyclones, eartquakes, strong wind and rough sea.