ABC Diving Ltd and its subsidiaries offer different processes:
WATER BLASTING
We operate water blaster equipment with a range of underwater wash jets and nozzles.
The 200 bar water blasting provide a fast and full cleaning for many different submerged structures: piles, seawalls, pipelines, mooring lines, ship hulls including "niche" areas, props, sacrificial anodes, etc. For large surface we also operate brushes hydraulically driven.
Water blasting is able to remove any kind of encrustations from light fouling to acorn barnacles and mussels.
LOW PRESSURE WATER JETTING
Low Pressure Water Jetting (LPWJ) provides a strong water flow though a nozzle able to flush away all sediments and to deeply dig a hole or a trench. It can be used for shore and underwater excavation or to clean up a large area from sediments.
The process is very efficient to embed any dead weight into the sediment (concrete block, anchor, pipe line, steel or wood piles, etc.). It can be use for cleaning up a work site as well.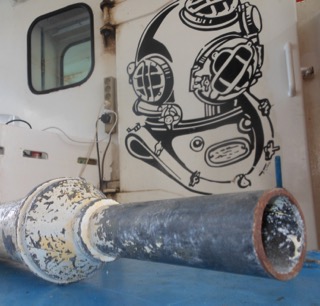 Water flow: 800 gpm / 3,028 lpm through a 1-1/4" noozle
Very efficient for excavation or to embed any dead weight.
HIGH PRESSURE WATER JETTING
High Pressure Water Jetting provides the most effective underwater cleaning technique. The operation is commonly called "JETTING".
It removes coatings and rust, and runs with a single operator.
SAFETY: The high pressure water jetting gun is a potentially dangerous tool and needs handling with great care. All our divers using such equipment are trained in its use.
The following precautions should be observed by divers:
At no time should there more tha one diver working in an area where jetting is taking place
The signal to start the high pressure water supply should only be given by the diver when he is ready to start jetting
Under no circumstances should the diver adjust the operating trigger in order to maintain an open position
A strong guard should be fitted around the trigger to prevent inadvertent operation

The diving supervisor should always be in direct contact with the technician running the pumps who should be standing by his pump whilst it is running. It is imperative that clear communications exist at all times between the supervisor, the pump and the diver.