ABC Diving® Ltd
Port Vila, P.O. Box 3242 VANUATU South Pacific
Complete Diving Services to Vessels & Civil Engineering Industry
Please, contact us for:
DREDGING & EXCAVATION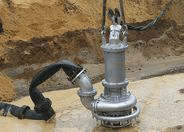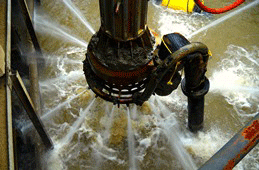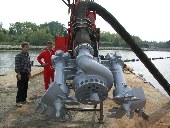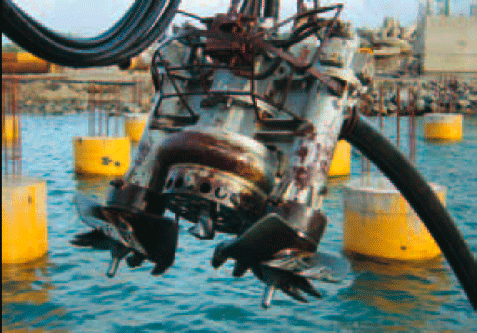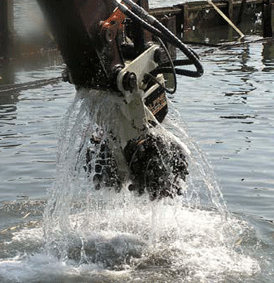 Submersible
pumps with or without water jet or cutter(s)

DREDGING and EXCAVATION are the two most common means of removing contaminated sediment from a water body, either while it is submerged (dredging) or after water may have been diverted or drained (excavation). Both methods typically necessitate transporting the sediment to a location for treatment and/or disposal.
ABC Diving offers dredging and excavation:
ABC DIVING operates compact SUBMERSIBLE DREDGE PUMPS (specifications below) mounted in a protective casing that can be fit out with a large array of suction heads, which results in a versatile dredging tool fit for a broad range of tasks.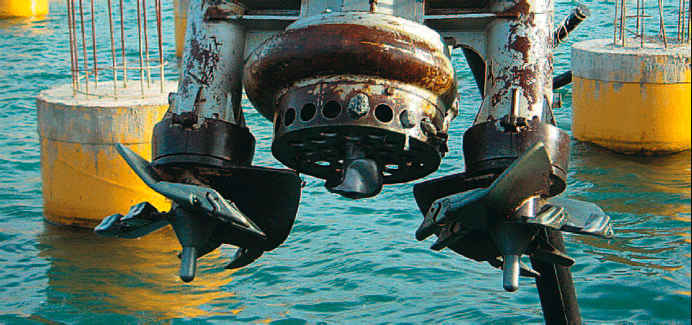 Versatile submersible dredge pumps at work with excavators coupled to the agitator
Sediment slurried by the agitator (fixed on the main shaft) is immediately drawn into the pump and is not allowed the opportunity to escape only to settle elsewhere. Therefore, percentage of pumped solids is generally much greater than any other dredge system (often reduced to depend upon pumping massive volumes of water in order to achieve respectable sediment production rates) and you can enjoy the added benefit of having not unnecessarily wasted all of the extra water.
HYDRAULIC DREDGE PUMPS
Our dredge pumps have excellent suction properties, assist with:
Water jet to fluidise the bottom material (300m3@ 8 bar);
Flat bottom head to level the surface;
Hydraulically driven cutter unit for loosening compacted sediments;
Hydraulically driven auger head for accurate dredging of polluted sediments.
The pump can be equipped with cutters, which coupled with the agitator (fixed on the main shaft) stir up the solids settled on the bottom in order to be easily pumped out and creating a homogeneous mixture with higher percentage of solids, getting a higher efficiency.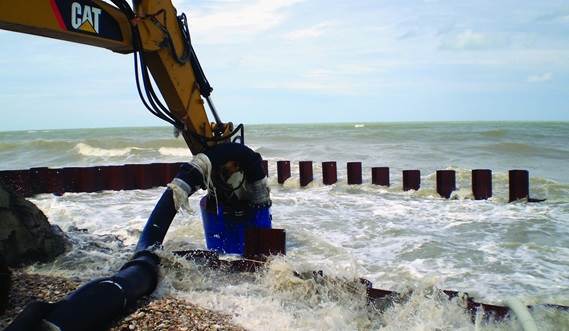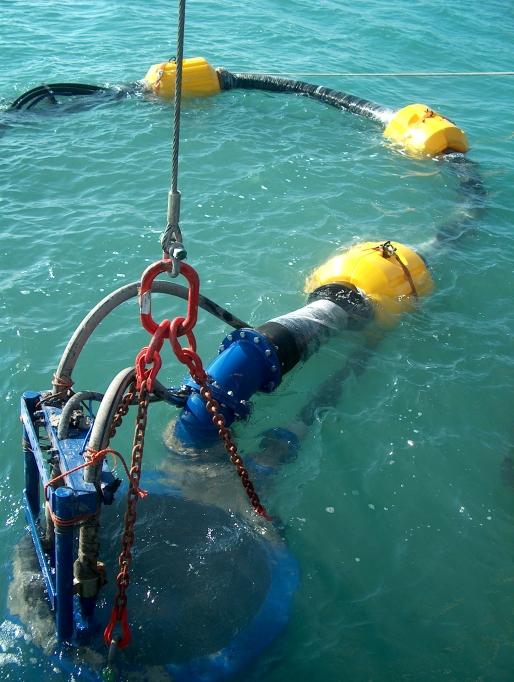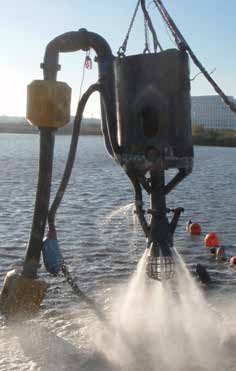 PERFORMANCES & SPECIFICATIONS

PUMP

DP 200

DP 250

HY85/160HC

SH10-150

Max. mixture capacity

800 m3/hr

1,250 m3/hr

800 m3/hr

720 m3/hr @ 30 m

Max. total head

5.0 bar

5.3 bar

18 m

40 m

Max. power at shaft

120 kw

195 kw

115 kw/156 HP

110 kw/150 HP

Jetwater pressure / Int. diameter

8 bar / 100 mm

8 bar / 125 mm

Agitator + cutters

Agitator + Drumcutter

Suction internal diameter

200 mm

250 mm

-

-

Discharge internal diameter

200 mm

250 mm

250 mm

250 mm

Max. spherical passage (solid size)

125 mm

130 mm

90 mm

100 mm

Max. distance of discharge

up to 1000 m

up to 1000 m

300 m

Weight (pump without accessories)

1,360 kg

2,425 kg

1,100 kg

1,800 kg
Our dredging pumps are compact, versatile and multifunctional; they come with various suction heads available.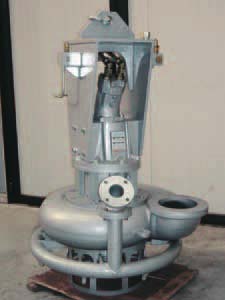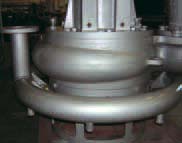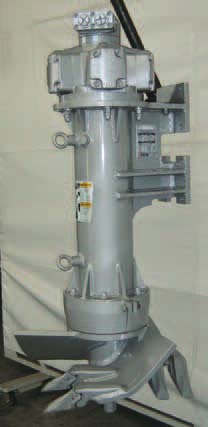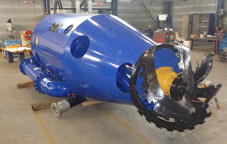 Pump with high pressure ring water jet / Cutters hydraulically driven
MATERIAL DENSITY & DEPTH
Because of their submersed use the pumps can reach extremely high mixture densities, then operating depth can vary and even reaches -500 m.
DRUMCUTTERS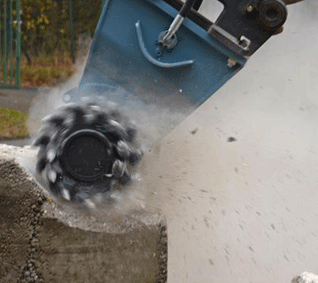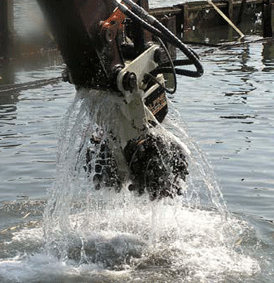 Drumcutters are an alternative to hydraulic breakers by generating higher productivity in several applications.
They are designed to achieve optimum performance and decision when removing materials offering low noise and less vibration; critical when working in sensitive environments.
Drumcutters consists of extremely robust spur gears driven by high torque hydraulic motors to be used in the most challenging conditions with little to no risk of failure.
They are specifically designed for grinding rock, concrete and wood.
Applications:
Under water excavations, trenching, demolition, refurbishment, foundation work, etc.
Photo on the left: D10 in action on shore (can be coupled to our dredger).
DREDGER
ABC DIVING designs and manufactures its own multipurpose floating platforms (14 m x 6 m, draught 0.70 m) to operate the dredge pump(s).
The whole set is easy to move on site or to relocate and prompt to operate. Our systems able to improve productivity and to minimize downtime.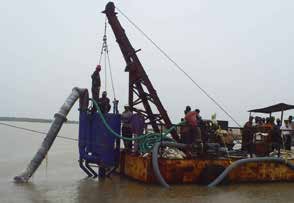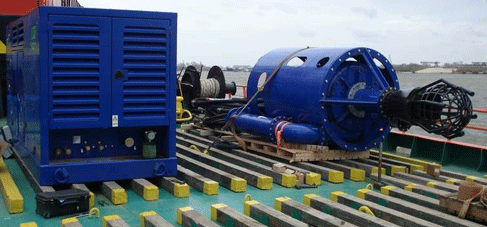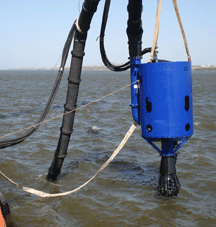 DREGER POSITIONNING & DREDGING CONTROL
An important element of sediment remediation is the precision of the dredge cut, both horizontally and vertically.
Our dredger is positioned on site by means of anchors and winches.
As the submersible pump is supended to a frame, its vertical positionning is controled with ease and accuracy.
Depending on site conditions (e.g., currents, winds, tides) horizontal positionning is controlled by means of:
GPS;
Optical (laser) surveying instruments set up at one or more locations on shore;
Visual control of divers and/or video (if agitator use instead of water jet)
Anchoring systems, that may enable the dredge operator to more accurately target specific sediment deposits (the effectiveness of anchoring systems diminishes as water depth increases).
However, please, do not develop unrealistic expectations of dredging accuracy!
Contaminated sediment cannot be removed with surgical accuracy even with the most sophisticated equipment.
DISCHARGE
Discharge distances up to 1.000 m with a single pump.
The pumps have a dredging capacity up to 1,250 m3/h for the bigger.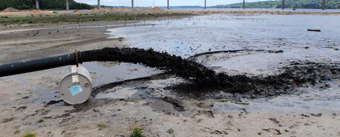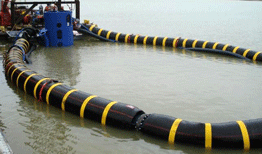 We can also operate a
Multi-Use BARGE "ST11"
for dumping and/or dredging. 1,000 Tonnes DWT- Aft Ramp Loading.
Tonnage: Gross 740 T, Nett 222 T; box dimensions 19.9 m x 11.4 m x 2.8 (height); Fuel capacity 300 Tonnes).
ENVIRONMENTAL CARE / SENSITIVE AREAS:
ABC Diving offers the possibility to greatly minimize contamination of surrounding sea waters in sensitive areas, by discharging the dredged material directly in deeper waters, by means of a discharge hose line laid on the sea bed, instead of at the surface; resulting in (almost) no water contamination, as the dredge material flows away down slope, or is carried away in natural currents (note that, very often, adjacent bottoms are made of the same material due to the slope, gravity and/or streams).
This process avoids all risk of surface pollution by leaks from barges or dams and fixes all issue with dredged material dumping (if not usable for reclamation).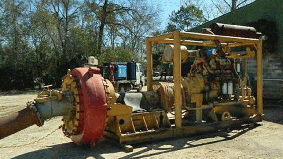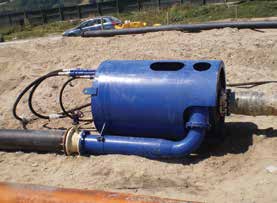 300 mm Dredge Booster Pump (on the left) and 250 mm Submersible pump used as booster (on the right)
TYPICAL AREAS OF OPERATION:
Marinas, Harbours, Dock loading facilities
Lagoons
Rivers
Canals
Dams
Open pit slimes removal
Restricted areas
Hopper barges
General hard dewatering
Stock pile dewatering
Control of slurries
Tunnel and Channels making
Trench clean out and back-fill in pipe-cable laying projects
Removal of drill water
Reclaiming beaches
Etc.
2. WATER DREDGING & JETTING - AIR LIFT - DEWATERING (operated by diver)
ABC Diving can operate throughout Oceania in locations that are difficult to access with heavy machinery,
by providing economical SMALL DREDGING with PORTABLE equipment MANUALLY OPERATED for remote sites.
This process fits to small quantities and soft materials to dredge (mud, slimes, silts, sand) with a capacity up to 165m3/H.
It is very useful and essential for archeological underwater researches on the seabed and it can work even in very shallow water.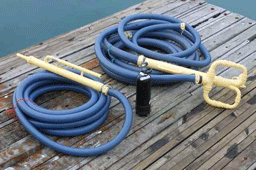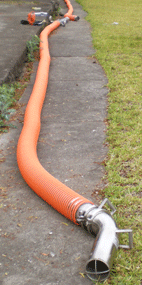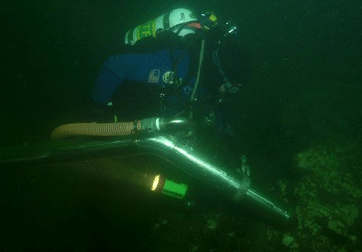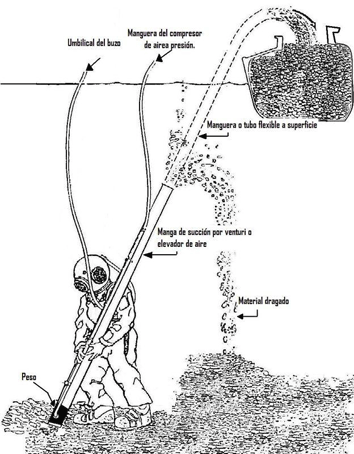 WATER JETTING used for underwater pipeline embedment / WATER DREDGING carried out to deepen existing facility in order to allow larger ship access / AIRLIFT drawing.
ENVIRONMENTAL DREDGING:
We offer dredging solutions to move the sediments over the sea bed, without bringing spoils to the surface and by AVOIDING POLLUTION in sensitive areas.
DREDGING
We dredge by means of JET-LIFT and AIR-LIFT, that are dynamic pumps using a fluid - air or water - to move other fluids. Because of their simplicity and versatility, they are widely used in salvage operations and dredging as well.
We operate Manual Suctions Dredgers (4'' in diameter up to 8'') from small barge, boat or from the shore, for DEEPENING, WIDENING, EXPANDING port areas, canals, basins evolution, anchoring, mooring berths; for CLEANING, CLEARING, REMOVAL, DEMOLITION, EXCAVATION of material, ANCHORS/CHAINS recovering or EMBEDMENT into the seabed:
In WATERWAYS, HARBOURS, MARINAS and WHARFS areas, where a versatile dredger is needed, which can both pump and excavate;
Where PILE DRIVING in water or on the shoreline is needed;
Everywhere conventional dredgers cannot operate.
Spoils (excess material) are carried away from the dredge area and disposed, with or without coming to the surface according to the customer requirements.
JET-LIFT
How it works?
Jet-lift is a practical application of  WATER JETS for dewatering (Eductor) or dredging.
Jet-lifts use the Venturi effect of a concentrated high-speed stream of water to pull the nearby water, together with bed material, into a pipe.
They can remove semisolid or slurried materials continuously. But they will normally lift loose material only in the immediate vicinity of the lower end (about five to 10 meters away from the work site); to discharge farther it is possible to operate a DREDGE BOOSTER PUMP (photo above § Discharge).
Jet-lift is efficient even in very shallow water.
How it works?
An airlift is a type of small suction dredge handheld underwater by DIVERS.
It works by blowing air into the pipe, and that air, being lighter than water, rises inside the pipe, dragging water with it. The mixture rises and creates a differential pressure that lift water, or semisolid material, up the pipe.

Deeper the air lift is working, more efficient it will be.

Air lifts are frequently used to clear mud and loose silt. They can remove semisolid or slurried materials continuously.
But they will normally lift loose material only in the immediate vicinity of the lower end (about 10 - 15 meter away).
Water jetting in the immediate vicinity of an air lift may break up heavy or hard-packed material and increase the efficiency of air lifts by discharging hard materials farther.

Air Lift and Jet Lift main advanges:
Simple to operate;
Easy to control dredging accurately.
WATER JETTING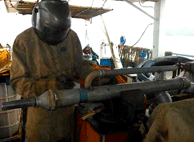 Water Jet making on board at the work site
The water jet is a useful accessory coming with our water dredge package, where it can be used in conjunction with the dredger, against materials on which the latter is less effective alone, such as packed clay and loose debris.
Water DREDGING and JETTING are essential and very effective tools for EMBEDMENT / DESEMBEDMENT of pipelines, anchors, or any deadweight on the seabed (for large pipeline embedment see "1. dredging operated by floating platform").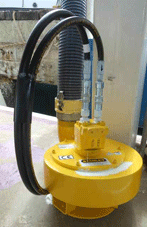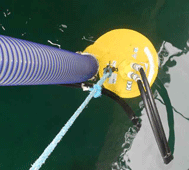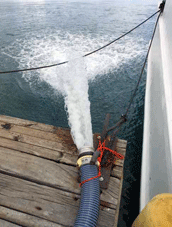 Submersible Hydraulic Trash Pump (Stanley TP08) 4'', capacity 800 gpm (3028 lpm).
We also operate efficient Jet-lifts and TRUSH PUMPS for DEWATERING (slurries, or powdered solids). Their diameter is usually 4-inch suction and discharge.
We can operate different sizes in diameter, on request, according to the work (up to 250 mm if operated with a lift).
Advantages:
Small, compact, can be used to pump flammable fluids;
Convenient and safe in small, enclosed compartments;
Suitable for moving slurry or abrasive solids in suspension in the water;
Easy and fast to operate.
------------------------------