General information
The surface covered by sea adherence is about 80% of total ship hull. Besides preventing direct surveying, sea adherence causes a decrease of ship's speed and consequently augments CONSUMPTION of FUEL.
Nowadays cleaning is done manually in dry-dock with an employment of different adapted methods like grit blasting or water jet. It has to be noticed that, in itself, it is a very contaminant operation (the resulting dust always contains painting particles), it is harmful for human operators health and it is a very uncomfortable job.
The use of the IN-WATER SOLUTION
Allows cleaning a ship from sea adherence without the use of an expensive dry dock.
In this case it would be possible to clean a ship much more often, for example, twice a year, before having to many worms, barnacles and... Aquatic Invasive Species (AIS).
Even in the case when it is necessary to make inspection, repair or restoration of a protective coat of a ship in a dry dock, it would be possible to make a ship's hull cleaning out of a dry dock first, which would allow using dry dock more efficiently.
Avoid your vessel to be BANNED
Everyone involved in shipping is well aware about the issues regarding Non-Indigenous Marine Species and DoF's requirements and emergency power which may result in the vessel's entry banned in national waters or harbours. Prevention is better than cure!
Self-propelled mechanical underwater cleaning machines with rotating tools (used in conjonction with smaller mechanical tools):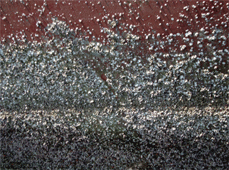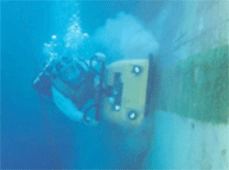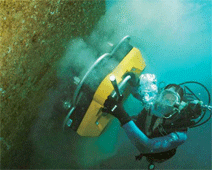 A vessel's fuel performance usually begins decreasing after six months from dry-dock and continues to decrease rapidly.
Underwater marine growth, barnacles, and/or sea grass can cost a ship-owner millions of extra dollars in time and fuel costs each year.
To prevent spending additional dollars for fuel, a ship should be cleaned twice a year.