SUBSALVE USA Corporation

www.subsalve.com - [email protected] : President and Production Manager, "Richard" and "Richard G." (both names appear on the website)
Police charged Richard G. Fryburg, 58influence and refusing a chemical test
officer reported smelling alcohol and seeing signs of intoxication.
He later failed a field sobriety test.
He was also cited for driving with an expired registration and a lane roadway violation.
September 2-5, 2016 - North Kingstown Police Department
Sep 3, 2016 - doors (both side swipe type). Carpet & small step stairs in bed of truck. Refer To Arrest:
16-488-AR. Arrest: FRYBURG, RICHARD GEOFFREY.
We have had a terrible experience with this company:
Richard FRYBURG from SUBSALVE USA lied through his teeth and stoled us through a very dishonest scheme.
- We have listed SUBSALVE USA on a black list suppliers and we want to share their bad practice with eveyone possibly concerned -
What were the issues?
SUBSALVE USA's misleading advertising:

" Compliance and Warranty – All carry a one-year warranty. Don't put your projects or your people at risk – insist on
SUBSALVE USA for high quality."
"Quality – Our products, including all components, are proudly made in the USA by skilled craftsmen. Every SUBSALVE
product is tested prior to shipping to ensure reliable performance. You can work with our solutions with confidence!"
"Ready for immediate use—factory-equipped with all necessary hardware."

SUBSALVE USA's payment requirement:

Full payment up front after sending an invoice for the amount of $13,284.00;
Additional quotation for Ocean Freight ($1,396.00 - 8 weeks transit time) or Air Freight $5,699.00 - 7 days transit time).

We put our projects and people at SUBSALVE's reliability:

We immediatly proceeded to the payment of $14,680.00 ($13,284.00 + $1,396.00) by swift on July 6th, 2016.
We scheduled a delivery to our Dive Support Vessel in transit in New Caledonia / Noumea at the end of September 2016, before sailing to a salvage worksite in Vanuatu.
For the next following 3 months we only received "sorriness" from SUBSALVE USA and empty promises for shipping (copy e-mails by clicking here) as per follow:
"are working on your order" (Jul 18, 2016)
"should be shipping on Monday" (Jul 23, 2016);
"We are expediting" (Aug 3, 2016);
"We will be shipping on Monday [...] we will be paying the difference for air freight so you won't be delayed longer" (Aug 6, 2016);
"we will be shipping by the end of the week by air" (Aug 24, 2016);
"will confirm later today or tomorrow" (Aug 30, 2016);
"we are arranging the air freight now" (Sep 7, 2016)
"can ship everything by Tuesday" (Sep 9, 2016);
"This is ready and will be picked up today" (Sep 14, 2016);
Fully depending on SUBSALVE USA's goodwill: a nightmare
September 13, 2016 we started requesting the cancellation of the order and a reimbursment.
September 22, we threatened SUBSALVE USA with proceedings and claim for damages (our vessel and crew standby in New Caledonia started to be getting significantly costy and we had a deadline on September 20th to leave NC and perform the salvage).
September 22, Richard G. FRYBURG (President) replied:
"I apologize for all of this it is really my fault for promising earlier delivery dates. Our manufacturing facility was overwhelmed with work from several large contracts and then we had numerous hurricanes and tropical storms that caused additional urgent demand for our products.
 Your order is been nearly complete for some time but just a few items were lacking that we are now finishing.
It will be shipped by expedited air freight tomorrow. I will advise the AWB late tomorrow when it is received."
September 29, 2016 without any reply from SUBSALVE to our e-mails, we requested again a reimbursement as we must place an order with another supplier.
October 3, 2016 without any reply from SUBSALVE, we ask them to urgently confirm the reimbursement.
October 4, 2016 without any reply from SUBSALVE, we sent a "Last formal request" for the reimbursement of $14,761.00 including our bank fees.
October 5, 2016 without any reply from SUBSALVE, we phoned to SUBSALVE and after introducing myself, I was told that Richard was not at his office before the communication to be cut off.
October 10, 2016 without any reply from SUBSALVE, once again we sent a formal request for reimbursement.
October 11, 2016 SUBSALVE USA / Richard G. Fryburg replied: "This was shipped last week. We will forward details this morning".
Evidences of SUBSALVE USA's dishonest scheme (continuation)
In fact, the Air Way Bill was dated 10/10/2016 the day before Richard's e-mail (and not "last week").
Surprisingly, the total cost of the air freight was $1,396.00 (amount of SUBSALVE's quotation for Sea Freight) instead of the prohibitive $5,699.00 they initially quoted.
October 22, 2016, once finally getting the delivery in Noumea by air freight (photos at the end of this page):

3 enclosed floatation bags were missing (5 inside the parcel instead of 8, value US$3,550 on which we paid the taxes and fees);
1 enclosed floatation bag had its inflation valve reduction over tight and broken, resulting in air leak when inflated (not tested prior shipping);
1 parachute had its fabric damaged (from factory) along 1 meter and requested repairing;
The lift bag repair kit was incomplete, the roller was missing.

October 27, 2016 Nadine Reynolds (Administrative Manager) replied: "I am sorry. We will send all of the missing product and items by air freight on Wednesday".
October 27, 2016 Nadine Reynolds wrote: "I'm sorry for the delay. It will ship tomorrow".
October 29, 2016 she provided a tracking number with UPS for a 2.00 lbs parcel sent to New Caledonia, knowing that we will not be there anymore for the delivery in New Caledonia / Noumea...
Since, no reply about the content of this parcel, neither about the missing bags (click here to see the last e-mail sent to SUBSALVE USA).
SUBSALVE's catalogue proclaims compliance with ADC, ABS, DEMA, IMCA, lists plenty clients and each page mentions that "Each SUBSALVE USA lift bag is tested prior to shipping" and "factory-equipped with all necessary harware" (which what not the case).
In regard of our terrible experience with this company, we claim that:

SUBSAVLE USA has a misleading advertising;
SUBSAVLE USA does not respect its commitments;
SUBSAVLE USA deals with its clients by a very unfair and dishonest way: that is a SCAM.
To crown the whole, SUBSALVE USA advertises:
"All carry a one-year warranty. Don't put your projects or your people at risk - insist on SUBSALVE USA for high quality."
What inconvenients and damages for us? Possibly same for you...
Lost of salvage contract;
Standby costs for vessel and crew in transit in New Caledonia for 44 days;
Additional costs for goods delivery from the airport instead of sea port;
Over cost due to the rate of the US$ in comparison with £ if we had dealed with a supplier from UK;
Order of equipment from another supplier resulting in huge extra costs;
Great waste of time and moral wrong.
Some words about SUBSALVE USA's Bags / Parachutes
We were in use of working with salvage bags / parachutes from other makers and these bags were strongly fitted with replacable strops easy to secure to the load for lifting and easy to change if damaged.
SUBSALVE USA's parachutes are made with a single nylon strop stitched to the envelope; probably much cheaper to make, but very desappointing to use or to repair because only replaceable by the maker, not by the user.
On SUBSALVE USA's enclosed bags, all the valves are screwed with silicone overflowing the thread; that augurs badly for disassembling/repairing on site.
Fittings (reductions) are made of PVC and easily broken if over tight (which was the case at the factory).
We ordered SUBSALVE USA's "Fend-Air" (inflatable marine fenders). 24H after inflation they started deflating.
Why did we choose SUBSALVE USA?
Because of their advertising on the Web and some well known retailers listing their products, we felt confident;
We were interested in their "pillow bags" (main reason), very useful for the sort of salvage we had to undertake.
What are we about to do now?
DON'T WORK ANYMORE WITH SUBSALVE USA! (there are two others best and famous suppliers in UK with JW automarine and Unique Seaflex Worldwide);
Inform other potential customers on the Web about the scam;
List SUBSALVE USA on black list suppliers;
Fill an Electronic Consumer Complaint Form to contact the Attorney General in Rodhe Island.
But from now, every time we will use these lift bags we will remember this terrible, costy and unforgettable experience...
Do you want SUBSALVE USA bags? Make an offer, we will get rid of them for cheap !
Enclosed floatation bag's fitting over tight and broken (air leak):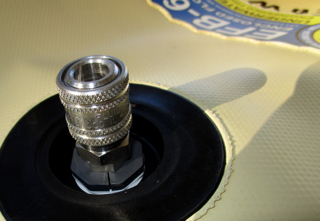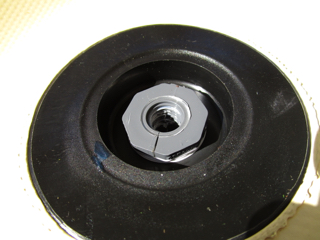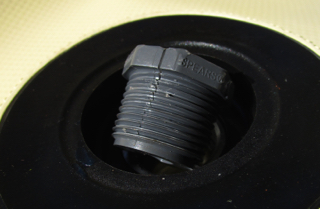 Parachute material damaged from factory and delivered without any hardware: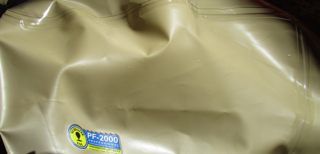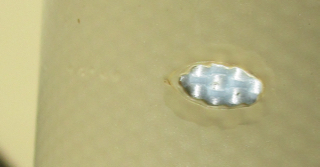 Inflate-A-Tank delivered without any fittings: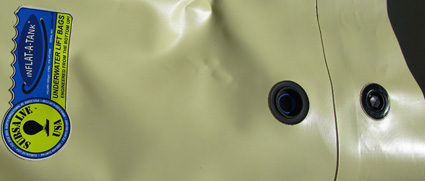 Lift bags unsticked after one single dive: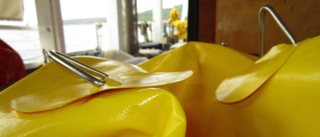 °°°°°°°°°°°°°°°°°°°°